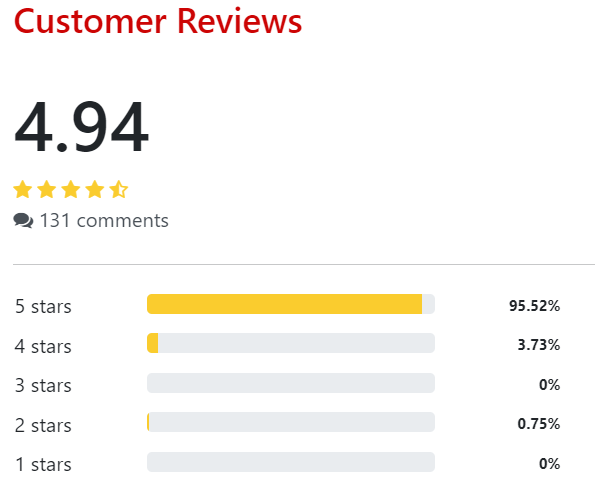 Brittany and Ryan S.
Published on April 25th 2023, 4:35:23 pm
Thank you so much for that beautiful work of art! It is top of the line and just all around more than what we were expecting. Well worth the wait and expense. We are extremely pleased with it. We will gladly recommend you to everyone we know in the shooting community. Thank you again!!!! The dealer we had it sent to was in awe, and the customers that showed up. They were practically drooling over it :) Is there any apparel we could purchase to represent you? It is our biggest showpiece yet and we are very proud to show it off. We truly appreciate the quality and craftsmanship and customer service you provided. We hope you have a great weekend and look forward to doing business with you again in the future.
Ben Lee Thompson
Published on February 13th 2023, 9:23:56 pm
My 18.5" Raptor is truly awesome. Extremely accurate with good ammo and very good even with surplus ball rounds. The shorter barrel gives up some velocity but makes the weapon much easier to maneuver and hunt with in general. Everyone that sees it wants to shoot it, and all are impressed. The normal comment after shooting is "that's not nearly as bad as I thought it would be" followed by "where did you get it?". The craftsmanship is superb, and I will likely by another in the near future.
Dane sherman
Published on February 9th 2023, 12:41:48 pm
I purchased the 29" from ligamatec and after some experimenting with recoil reducers this beast is now a sweetie pie and a joy to shoot
J.R. Dizon
Published on December 18th 2022, 3:50:00 am
If you're on the fence it's definitely worth it Very professional made 50 upper. Absolutely worth the money. Came with both hammer and spring with pin for the lower build. Very nice fit perfect and snug with 3DArms Mammoth 50 3D printed lower. No problems whatever out of the box. Also comes with a readme that you should read to cover all bases on treatment, care and assembly of the upper. Came in a long box packed with packing peanuts with foam pads top and bottom. FedEx shipped it with care so I had no blemishes or anything with the upper since they bolt is ziptied in place to the front pin hole to prevent it from moving around during shipment but it makes the bolt protrude more than the rest of the upper so there could be foreseeable issues that might arise during shipment treatment. But I had no issues. The upper arrives well lubed and ready. The wait time is the only issue but it is definitely worth the wait.
Charles Yeh
Published on December 4th 2022, 11:38:00 am
Exactly as promised Arrived exactly as described. Fit and finish is nice and the tolerances are tight. Showed up within the promised lead time.
George Pouliotte
Published on December 2nd 2022, 5:10:00 pm
50 BMG Sir your product was flawless, Both customers are so very happy you can count on me for several more. I'm working with my Sheriff and Police Department at this time. I sure do thank you for your work. George
Joshua Kellam
Published on November 28th 2022, 2:27:00 pm
Great upper I have 10 rounds though it. Its working fantastic.
Aaron Gresock
Published on November 14th 2022, 11:50:00 am
Very impressive. My upper just arrived. Fit and finish are impeccable, you can definitely see the pride and care taken in this build! Bolt fit-up and action are smooth and snug with a round. Hammer reset is almost unnoticeable. My order came in sooner than anticipated, and I couldn't be happier! Update: I have finally gotten the chance to shoot my Raptor 50-30in. From the first shot the upper performed perfectly. 660 gr PMC Bronze ammo. Vortex Diamondback Tactical 6-24 x 50mm (highly recommend) Recoil is stout but manageable and straight back with no muzzle flip to speak of. The brake works very well at controlling this. Spent rounds were snug, but extracted easily. 200 yds - 2 shots were just over an inch apart 500 yds - 5 shots were right around 6 inches. (I blame the operator) As an avid shooter who appreciates quality craftsmanship I can not say enough. If you are considering getting into a .50 but not spending Barrett money you won not go wrong with this one! Thanks again Marcos.
Loran Landingham
Published on August 19th 2022, 9:48:00 am
Raptor 50 This is my 3rd Rifle that I have built from Raptor and it is a very fine Rifle for the price and the craftsmanship is unbeatable. I own five 50 BMG Rifes.
Michael Jude
Published on July 27th 2022, 6:54:00 pm
It was a long wait to get the barrel, but the wait was worth it. Excellent workmanship: very impressive.
Jonathan Klein
Published on July 27th 2022, 12:15:00 pm
Wow! This was my first .50bmg and all I can say is wow! Build quality is excellent, mated to my lower just fine. Have about a dozen rounds through it and it is quite accurate. Recoil is heavy but manageable and expected from a rifle like this. Worth the wait!! Don't hesitate just get it! You won't regret it!
Jason Rickard
Published on July 11th 2022, 1:33:00 pm
Dream come true!!! I purchased the raptor 50 29 barrel length absolutely a amazing piece. Very well quality an super smooth action. 100% satisfied, one little issue I had was shipping . The shipper was not nice to the 20 lb upper. The box was smashed one lil nick on the bolt handle. The factory bubble wrap definitely prevented more damage, but it jus suck when you see a 1700 plus dollar purchase treated that way. All in all amazing upper an cuts holes at 300 yds working on distance as I break in the barrel.
Billy White
Published on July 2nd 2022, 9:22:00 am
Good but not perfect Mine has a 1/4" gouge in the top of the hand guard that takes a lot away from the look but it doesn't affect function. Otherwise its great.
Christopher Britton
Published on July 1st 2022, 6:52:00 pm
Stop searching, this is the one! Wow!! I was looking for a .50BMG upper for a while, when I came upon the Ligmeccorp website. I read the other reviews, and finally decided to pull the trigger (pardon the pun). Let me just say I was VERY pleasantly surprised when mine was delivered. They were quoting a 16 week lead time, and got it in about 12. The quality was on point. I bought a Safety Harbor lower to use with it, and it was an effortless match! I mounted a scope on it the first night, and took it to the range on day 2. I had it sighted in at 100 yards in 2-3 shots. Because of the overall weight (about 19 pounds complete), and really nice integrated muzzle brake, it is a very nice shoot. The recoil is managed without much effort. I have now put probably 50-70 rounds through it, and have to say, it is an AWESOME rig. I am so glad I ordered it, and have already recommended it to a number of people.
RICHARD MCREA
Published on July 1st 2022, 6:48:00 pm
Raptor 50 22" Absolutely awesome. Shipped faster than expected. Shoots awesome. This is 1000% legit. Honestly I'll probably order a 18". Do not hesitate. Order up.
Joe Mccarthy
Published on June 27th 2022, 4:50:00 pm
RAPTOR 50 If your looking for a top quality 50.. LOOK NO FURTHER.. these guys will take care of you.. well worth the wait.. owner is a great guy they pick up the phone for questions custom fluteing avaliable.. very pleasent process.. GET YOURES TODAY!!!
Ben Thompson
Published on June 4th 2022, 4:26:00 pm
Best value and craftsmanship by far It todays world out is hard to find craftsmanship and value for your dollar. These uppers are an exception to that in every way. Beautiful in for, for, and function. You cannot go wrong with a Raptor upper, I wish we could post pictures of our builds!
Todd Steinmetz
Published on May 25th 2022, 4:01:00 pm
Raptor 30 Very pleased with my Raptor 30", lead time was as advertised. Build quality is very good. Only have 15 rds through the upper so far with zero issues.
Kevin Mummert
Published on May 16th 2022, 2:53:00 pm
Worth the wait Got everything together and shot it this weekend very happy with it
Kevin Dinh
Published on May 16th 2022, 10:04:00 am
Great build quality Been waiting for mine for so long but so worth it! Build quality is excellent and fit the lower I built for it perfectly. And it functions flawlessly.
Juan Vasquez
Published on April 16th 2022, 7:16:00 am
Raptor 50 30in First let me start by saying when I placed my order there was an 8 week backlog and I received my upper just shy of 7 weeks. Needles to say I'm very pleased with the fact I received my order within the promised timeframe. As far as the quality of upper I couldn't be more impressed. Fit & finish is amazing, the action is smooth, and disassembly is simple. Shooting the 50 bmg out of this upper is surprisingly tame. Muzzle break and overall weigh makes recoil comparable to shooting a 12gauge 3in magnum slug. Before this purchase I had never heard of this company and I was skeptical to place an order so I call and inquired. I was surprised that not only did someone pick up the phone the first time I called but they where also able to answer all my question in a very polite and pleasant manor. That's ultimately why I took the plunge and ordered the Raptor 50 upper and I'm glad I did.
Charles Fazekas
Published on April 16th 2022, 7:15:00 am
Raptor 50 30" Fluted Barrel All I can say is WOW! I can't believe how well built this .50 upper is. I married it to a Hell Fire single shot AR15 lower that I purchased and milled myself. I dressed it up with a heavy-duty bipod a Magpul PRS Gen 3 stock with a mono pod. Other than checking the charging and ejecting of a round I have not been able to go to the range yet and fire it yet. I called several times to check my shipping due to being a little behind and got great costume service with honest answers on possible delivery dates. I have a couple friends who have seen this beast and are seriously moving forward to getting their own. I am pleased and I encourage anyone thinking about purchasing one to do it. You won't be displeased.
Alexander Casto
Published on April 16th 2022, 7:13:00 am
A Real Beauty A real beast of a rifle, to be sure. I finally had the opportunity to take it to the range, and I'm happy to say it did not blow up. I went through 11 rounds, all 660 grain lake city m33 ball rounds, and they shot fine and ejected fine. They are kind of hard to load though, you can feel heavy resistance on trying to lock the bolt. All the cases show some heavy friction from the ejection button on the bolt head, on the case, you can see the circle and a long drag scratch where the head rotates on the round, and the bolt head is starting to gather a lot of brass shaving on it, but I'm sure it'll clean right off. It doesn't have this issue with the snap cap, but I've tried 4 different types of 50 and all have this brass scraping issue. However, it doesn't deform the case in any way, if anything it's like it just scrapes off the dirt, so I wouldn't even think twice on it. The hammer is really good, but get anti walk pins.
Grant Gerhauser
Published on April 2nd 2022, 5:32:00 pm
Raptor50 -22" Barrel This upper is top notch, great craftsmanship would highly recommend buying one.
Duane Doepke
Published on March 31st 2022, 3:50:00 am
Top quality! Awesome!
John Sima
Published on March 16th 2022, 7:17:00 pm
The business transaction was professional, product quality excellent delivered in time as promised and performed as promised. Thank you for the pleasant experience
Jace Noy
Published on March 16th 2022, 6:15:00 pm
Worth the wait Just like the title says it was definitely worth the wait. Waiting for the weather to break to shoot it but i highly doubt i will find any issue with it. Fit nice and tight to my chosen receiver and the action was nice and smooth.
EDMOND CHUNG
Published on March 16th 2022, 11:57:00 am
got what I ordered Looks great thanks Ordered RAPTOR 50 - 22" on 12/13/2021 Delivered Friday 2/18 no FFL needed
Michael Monyak
Published on March 6th 2022, 6:47:00 pm
No complaints Satisfied Customer (impressed)
James VanHook
Published on March 6th 2022, 4:33:00 pm
Raptor 50 Took about 10 wks to get it but with the current import situation that was to be expected. Great quality. Very happy with the purchase. I have not had a chance to try it out yet but can't wait. great responce when I contacted them on order status. Thanks a million.
Neven Cook
Published on February 14th 2022, 10:58:00 am
Scope rings I ordered a 29 inch. upper and very excited to received. I am trying to piece together everything I need ahead of time. What ring height did not everyone go with? I think I am going with the Nightforce SHV 5-20x56.
Joe Rosenthal
Published on February 11th 2022, 8:29:00 am
Exceeded expectations Ordered the 30" barrel. Phone got answered every time I call super awesome to work with nice guy to talk to. Shot a few rounds thing hardly kicks which was a pleasant surprise muzzle brake works amazing. High quality finish.
Daniel Barrier
Published on December 11th 2021, 10:20:00 pm
Great upper Raptor 29" has nice bolt lock up. Hammer and spring are very heavy. Recommend forced break in by pulling on hammer without upper installed to get a smooth spear surface. Well built has removable handguard. Took 6 weeks to arrive.Looking forward to getting another one.
Keith Schoeppler
Published on December 7th 2021, 3:13:00 pm
Amazing Craftsmanship My expectations were much lower then I anticipated this upper would be and that's only because I was managing my expectations to be within reason. Everything on this upper is super clean and lacks any signs of the manufacturing process. The only thing I can recommend is that for an extra cost not offered on the website, you can call Ligameccorp up and request to have the barrel fluted for a reduction in weight. It was a little trick I learned from someone else's review when I was first shopping around on the website. The estimated lead time was 4-6 weeks, which I wasn't concerned with, but it was in my hands by week four almost to the day. This kind of lead time should not be a deterrent though, as I cannot emphasize the quality you are getting from this upper.
Dustin Jones
Published on November 19th 2021, 4:01:00 pm
510 DTC This upper is a great!!!! It is shoots awesome. Very accurate, worth every penny. It is Well built, and great customer service!!!! Thank you
John Neighbors
Published on November 19th 2021, 4:00:00 pm
Fast shipment Just built on Safety Harbor lower, can not wait to shoot.
Thomas Wilson
Published on November 15th 2021, 9:00:00 pm
Well worth the purchase. We ordered ours mid Oct, and it showed up today! With the holidays, I honestly wasn't expecting it to show up until maybe after Jan of next year. It was packaged very well. wrapped in foam and packing peanuts. I was able to put a Safety Harbor lower onto it. And a Safety Harbor handle on top of it. The hammer that comes with it was easy to install and it really has a strong spring. We are very happy with the purchase. Can't wait to shoot it. The customer service was great as well. I was even able to call to ask questions before my purchase. If you are looking for a 50cal upper, I recommend you try this one.
George Pouliotte
Published on November 15th 2021, 7:36:00 am
50 BMG The firearm is fantastic, my customer is so very happy with it and it works flawlessly.
Chris Berry
Published on November 14th 2021, 1:17:00 pm
Great quality, even better communication and servi I purchased my raptor and it was delivered well within the timeframe I was given. In fact his barrel was the only one available in weeks rather than months/years. Unfortunately FedEx mishandled it and it arrived damaged. They had dropped it so hard that the rear take down hole was compressed almost shut. I sent it back and Marcos repaired it free of charge the same day it arrived. I had it back within a week total. He answered the phone and replied to my emails immediately during the whole process. You can't ask for much better than that. Also he used UPS the second time and it arrived unharmed. A quality barrel and a really nice guy.
Andy Redding
Published on October 28th 2021, 10:11:00 am
Raptor "Fiddy" Love the finished product. Very manageable. Thank you for upgrading to the longer barrell. Quite an ordeal making the hammer work though. Supplied hammer wouldn't work at all. Had to extensively modify factory AR hammer. LIGAMEC CORP. YOU DO NOT NEED TO MODIFY ANYTHING. THE HAMMER WAS DESIGNED TO WORK WITH THE AR-15 TRIGGER. PROBABLY YOU FORGOT TO REMOVE THE DISCONNECTOR LOCATED IN THE CHANNEL OF THE TRIGGER.
Robert Wojtow
Published on August 31st 2021, 11:56:00 am
Overall Nice Upper Received the item and a chunk was missing from the front muzzle. Sent in photos and was sent a new muzzle instantly. Glad they made a small issue right! Excellent customer service.
Bryson Walczak
Published on August 24th 2021, 1:07:00 pm
Beautiful product! Beautiful gun Smith and everything fits amazing, no better way to win a bag dick contest like pulling out the 50, I went with a "hell fire" lower that has no magwell so the fit and finish is beautiful. Best investment IV made in a long time! And 50bmg amo is 1/3 the price of a 338 lapua and its a bonus to out shoot them creedmore fags! Hahaha, anyhow 660gr. At 3080fps speaks for its self. If you want to shoot an elephant or stop a pickup at 1000 yard's this is the bad bitch for you! But from personal exsperiance wear ear plugs.
Alex Tucker
Published on August 19th 2021, 7:19:00 pm
Love it Kicks like a mule but I love it.
Cory Mcleod
Published on August 19th 2021, 1:04:00 am
Missing parts The upper seems to be made well, but they forgot to include the hammer and spring. That wouldn't be such a big deal, things like that happen and can easily be fixed, but I haven't been able to get a response via email or find any other way to contact them. I'd love to try out my new gun, but sadly I haven't been able to.
Colton Mackey
Published on August 15th 2021, 7:32:00 pm
Great so far! Got a chance to take it out a couple times now and i can say im very impressed with the rifle, it has great accuracy with hornady factory ammo, right out of the box im getting 1 moa groups and even under 2 inch groups with federal bulk ammunition. I have found the gun to kick a bit but thats nothing a recoil pad didnt solve. Ordered about 8 weeks ago and received the rifle sooner then expected. Took around 5-6 weeks but well worth the wait!
Thomas Hurlbut
Published on August 12th 2021, 1:04:00 pm
Awesome 50 cal BMG Great quality at a great price!
Jason Couch
Published on July 30th 2021, 3:24:00 pm
29 Raptor Just Got my upper in on the 24th. After taking a day to set it up. I took it out back and zeroed it in today. Right out of the box I was on paper at 100 yards (Athlon Optics Argos BTR Gen II 6-24x50mm) . Took 5 rds to get it dead on. Great upper, perfect fit and finish. It was definitely worth the wait. Thanks,
Travis Powell
Published on July 13th 2021, 8:38:00 am
Raptor 50 BMG Upper Marcus said 3-4 weeks for delivery after ordering, it arrive at exactly 3 weeks. We've put our first 10 rounds through it this weekend. The first couple of shells we had a little trouble getting the bolt opened, no hammer needed but it was somewhat stuck. Rounds 3-10 the bolt had loosened up and opens easily. After first 5 rounds we bore snaked it, 3 rounds later was a dead bullseye at 100 yards. Great product, accurate shooter and honest timeline. Thank you Marcus! I would highly recommend this product.
Joe Weber
Published on July 13th 2021, 8:38:00 am
Great product. Everything was as expected and for a great price that's hard to pass up. I definitely recommend.
Robert McCormack
Published on July 13th 2021, 8:38:00 am
Well made like a tank So excited to get my upper. Married with a hellfire armory single shot 80 % lower and an Athlon Optics Aries scope , she is ready for sighting in at the range. Can not wait. Worth every penny!
Jd Druce
Published on July 9th 2021, 2:57:00 pm
Raptor 30" barrel 50 BMG I recently received my 30" .50 BMG barrel, put it on my fifty single shot lower w/ buttstock and bipod from (S.H.F.) mounted a Riton scope on it shoots great. It is loud, heavy and it has a kick but awesome to shoot. cost less than a single shot Barrett shoots just as well.
Daniel Vaught
Published on July 4th 2021, 9:19:00 am
Trusted Supplier I trust this supplier for quality items every time
Michael Chmura
Published on June 5th 2021, 10:15:00 am
Phenomenal upper Definitely buy this one...it is worth the wait!
Kyle Burgess
Published on June 1st 2021, 1:53:00 pm
What an upper! This is my first 50 BMG upper and let me tell you this is a beaut. I'm trying to match it with a single shot lower to make it a designated lower. Cleaned this here beaut up and boy does it get me excited. Can't wait to take it out.
Brian Klingerman
Published on May 27th 2021, 6:43:00 am
Grate Produt Very high quality. Can not wait to shoot.
ryan sloane
Published on May 27th 2021, 6:39:00 am
Excellent service I do not even have words I can describe how impressed and amazed I am in the workmanship and work Robert did and on top of That he was basically by himself through this pandemic and still was able to make customers happy and get them what they want. Also did change in barrel length to 30 inch and that was no issue at all and still got gun done on time! Definitely have my vote and card for future purchases and recommend over any other gun suppliers!
charlie lemonds
Published on May 20th 2021, 9:13:00 pm
50 BMG upper It was a pleasure doing business with you guys the upper is very well made and shoots very well
Brian LeBlanc
Published on May 17th 2021, 8:08:00 am
Very Satisfied Customer Order placed 11 Sept 20, took delivery 12 Oct. Mounted Vortex Viper 6.5-20x44 blem sale from Midway. No sense using high dollar optics with m33 lake city ammo. Ace skeleton stock as reccomended by Ligamec. As one can imagine it kicks like a pissed off mule but that was easily remedied with Limbsaver slip-on 1 inch thick Airtech pad, size medium. Machining is excellent. Bolt slides beautifully. A little stiff on the way out but I'm choking that up to the cheap ammo. Only issue is that the scope rail wasn't parallel with the bore out of the box but it was easily corrected by loosening, aligning the rail, and retorquing the screws. For what I have into this total package I am extremely satisfied with the product. A crowd pleaser for sure. Customer service is great. To inquire about stock recommendations, I called the number on the site and got a human being on the 2nd ring who assisted me.
Dustin Ryan
Published on May 7th 2021, 7:40:00 am
Worth the wait! I purchased the Raptor 50 30 inch barreled upper received. I'm still working through the break-in procedures but the so far I am very pleased. The quality and craftsmanship appears very good and I haven't had any issues putting accurate shots downrange. I would recommend this upper and would consider purchasing again.
Randy Platt
Published on April 29th 2021, 12:50:00 pm
50 cal upper
Seth Dillon
Published on April 22nd 2021, 9:19:00 am
Great upper, Awesome Value Received the upper in about 4 weeks. Very well built and finished. Bolt feels great and is very smooth. Mated perfect to my Aero M4E1 lower with zero slop. Shot it for the first time this weekend with no issues. Cleaning is easy with only having to unscrew the bolt handle to disassemble the bolt. Overall this is an unbeatable value for a 50BMG and I highly recommend.
Anthony Vitaliano
Published on April 22nd 2021, 9:18:00 am
Raptor 50 29 Inch I could not be happier with this purchase. The craftsmanship on this is unbelievably the bolt is smooth like glass all the parts fit beautiful I haven not shot it yet but I am supper excited this is the best way to own a 50cal and not pay a stupid amount of money
Eugene Mears
Published on April 22nd 2021, 9:18:00 am
RAPTOR 50-29 inch barrel What a amazing piece of work that Mr. Ruiz has done. The upper was perfect, finish was perfect, and it shot outstanding! Still breaking it in, bolt is smooth as glass and looks great on my lower!! Wish I would of bought one years ago, but know I own one!! The fit to my lower was perfect, no problems! All I can say is if you want the best 50 out there this is the one!! Better hurry, you do not know what tomorrow will bring!
Jesse Pleiman
Published on April 22nd 2021, 9:10:00 am
Raptor 50 30 inch Upper Beautiful, just beautiful. Fit, finish, and machining are perfect. The bolt is easy to remove for cleaning the barrel. Just a 3/8 inch wrench to remove the handle to separate the bolt. Simple design, easy to inspect the firing pin and internal components. Reassembly, just as easy. With the 30 inch barrel, I did not notice the shockwave or concussion others talk about. Just a push when fired. Put ten rounds down range with no discomfort or pain that some would lead you to believe. For my lower I used a standard A2 stock with the wedge pocket filled with a 3 pound lead wedge that I made myself. Also, I took a mouse pad and cut it to the shape of the butt stock, glued in place, to help with recoil. One mouse pad will give you five layers of cushion and increase length of pull about 3/4 inch, like most other slip on recoil pads. All in all, I am very, very pleased with this upper and it's performance. Well worth the wait from when the order was placed to receipt of the upper.
Jason Stitt
Published on February 28th 2021, 9:37:00 pm
Great Barrel Great product and very well put together. Can't wait to get to get range. Great customer service.
JACOB BECKEL
Published on February 19th 2021, 2:52:00 pm
So worth it That is patriotic there people. You really can feel it
Alana Baca
Published on February 19th 2021, 2:51:00 pm
Great Product Words cannot describe how awesome The craftsmanship on this upper is. Can not wait to get it to the range. Thanks Ligamec. Will be Referring your company to family and friends.
Brandon Gage
Published on February 15th 2021, 2:27:00 pm
Fantastic Craftsmanship I am so impressed with the build quality of my patriot 50 upper, well worth the wait, thank you very much
Garry Shelly
Published on February 4th 2021, 11:44:00 am
Raptor 50 18.5 I just received my upper today, feel like Christmas, can wait to take it to the range. The craftsmanship is superb, I could not ask for this quality at twice the price. Thanks Marcos, a loyal customer.
jerry pellette
Published on January 23rd 2021, 7:24:00 pm
Raptor 50 Ligamec produces a fine product. Need a question answered? Ligamec is there is provide support. Test fired the product with absolutely no issues. Top recommendation.
Robert Zarrizski
Published on January 22nd 2021, 4:45:00 pm
Ligamec Raptor 50 -29 inch Barrel I received the upper in perfect condition as promised. The bolt moved smoothly and locked up nice and tight. The upper was mated to a single shot lower, HD bipod and mono stock for stability. The first trip to the range revealed a very effective muzzle break that made the recoil surprisingly manageable. Accuracy with surplus ammo fell within 1 to 1.5 MOA. I am certain this will improve with a bit more range time. With my experience, I can confidently recommend the Ligamec Raptor 50 to those looking for a .50 BMG with a modest budget.
COLM YOUNG
Published on December 28th 2020, 6:53:00 am
excellent product and service Received my upper on the 26th of December. I could not be happier with the rifle. The workmanship is top notch. beautiful machine work, welds and fitment. Action is super smooth. Looking forward to fitting this out and getting to the range this spring. Customer service was above anything I've experienced in years. All communications were by e-mail, yet the response time was fast and questions, concerns were taken care of regarding shipping. I couldn't be happier and look forward to possibly doing more business with you. Recommending you to anyone that is interested.
Joel Ruch
Published on December 20th 2020, 2:15:00 pm
Thanks
Daniel Tegeler
Published on December 9th 2020, 3:56:00 pm
Pure Awesome Power I ordered my upper back in the summer but recently took it out. Holy freakin balls is all I can say! 50 BMG is no joke. The fit and finish is great. I do want to do some custom color matching. I wish the tool to remove the fore grip was available as an item to be purchased seeing its a custom tool. All in all...no regrets!
Kenneth Royer
Published on November 30th 2020, 9:09:00 am
Awesome piece of machinery This is a substantive gun. Very impressed with the fit and finish. Delivered on time and when promised. Only going to need one of these guns for my lifetime but if you are in the market for a 50 cal this is the place to buy from. Now its time to work on my lower and get the remaining parts together.
Alvin Stephens
Published on November 28th 2020, 8:35:00 pm
Raptor 50 Received it but have not fired it yet. This is the 2nd one that I have owned
David Womacks
Published on October 10th 2020, 4:09:00 pm
Wow! This is one awesome rifle, I have a large collection of firearms but this bad boy is the pride of my collection now. The price and quality cant be beat and the customer service was amazing
Michael Brasi
Published on September 21st 2020, 6:08:00 am
Just Buy it. !!!!! EXCELLENT CRAFTSMANSHIP This thing is a BEAST!!! The price is amazing and the work put into this upper is by far worth more than they're charging people for it. Thank you Ligamec.
Chris Wright
Published on September 21st 2020, 6:07:00 am
Raptor 50 This bad boy is beefy! The bolt slides smooth, not sticky at all. I'm so glad I went this route and this company ! Nothing but love on this purchase !!!
Joshua Brown
Published on September 21st 2020, 6:06:00 am
For the price For the price I don't think anyone could ask for more.
Randall Guppy
Published on September 21st 2020, 6:05:00 am
A blast This thing is a beast. It is a blast to shoot, and gets everyone's attention at the range. Installation is very easy, and with the included hammer has no problem setting off even the military ammo. Trigger pull seemed gritty and too hard while dry firing, but settled in nicely after a couple shots. Still heavy, but no longer gritty. Also tried another trigger, but the light pull just wasn't right for the rifle. Very consistent groups with a UTG 8-32x56 scope on top, sighted in at 200y and consistently leave a ragged hole in my 3/16 mild steel plate. This is one of the cheapest ways into the world of 50, but does not disappoint, not one bit. Everything fits very nicely, and finish is great. The only thing I would change is make a stainless version, I'd have happily paid several hundred dollars more to get one in stainless.
David Bidzinski
Published on September 21st 2020, 6:01:00 am
Raptor 50 bmg Upper is very well made and the price is unbeatable. I am very impatient and the shipping time is super fast! Love it!
Jeffrey Kryjak
Published on September 21st 2020, 5:59:00 am
Looks and feels great. Can not wait to fire. I recently received my Raptor .50, 18.5 barrel. I also had the barrel fluted which is not an option when ordering online but you should call if you wish this or some other custom work. The workmanship on this upper is excellent. Clean welds. Fine finishes. Bolt operates smoothly. Barrel rifling beautiful. This locks up to my Sharp Bros. lower tightly had to encourage the rear retaining pin slightly with a punch. Have not shot this yet so cannot speak to reliability or accuracy. Besides being a beautiful product, the owner Marcos Ruiz is awesome. We spoke several times on the phone (good luck getting anybody on the phone these days) and he was very pleasant and patient. My Raptor shipped sooner than expected. The UPS shipping notifications were nice. And it arrived one day sooner than originally stated. All in all, a great experience. Shooting review to follow.
W D Nesbit
Published on September 21st 2020, 5:54:00 am
Best money spent in years I ordered the 29 inch barrel to add some weight to reduce recoil. Had a spare AR multi caliber lower from an old rifle that had a worn barrel. Took about 5 minutes to make the modifications to the lower, mount a scope and mount a bipod. Drove an hour to the long distance range and decided to see what this could do. 1000 yard range and had groupings the size of my fist shooting m33 ball ammo. I have shot the Barrett and its a smooth rifle. This product is extremely competitive and for the price is by far the winner. Great accuracy, great weight, flawless and quality product is wrapped up in an affordable package that allows anyone the chance to own a quality 50 bmg.
Warren Richardson
Published on September 20th 2020, 5:32:00 pm
29" Raptor Only one word to say....AWESOME! Fit, finish, & build quality is impeccable...you will NOT be disappointed! Period! 1" groups so far at 150yds w/ Milsurp M33s is beyond my expectations. Recommend the SuperSniper 16x w/ SS 6-capscrew 30mm rings....great setup.
will wagner
Published on September 9th 2020, 9:57:00 pm
Beautiful Product! The pictures do the products no justice. Nice enough that an armorer from the movie industry was impressed! Communication is awesome, he answers the phone, or returns calls promptly. Nice snug fit to the lower, trigger pull is smooth. Cannot wait to take it out!
Anthony Romano
Published on September 5th 2020, 6:09:00 pm
Quality workmanship Quality workmanship Very good company to work with
Wes Jordan
Published on September 4th 2020, 11:28:00 pm
great upper first thing is that i was quoted 4 weeks because they were out of barrels. so i received in 3 wweks from time i ordered. not to shabby i dont think. and next is the great quality of this upper,i have not seen any better by anyone else. if you want a great shooting rifle at a fair price look no place else but here. recoil is very manageable and WOW it is fun to shoot. holding a 2in group at 200yds id just the first few shots. going in the next few days to go for 800 to 1000yds. like this so much already thinking on another and all my buddys are planing to purchase one also
Noah Brougher
Published on August 26th 2020, 4:24:00 pm
Great upper Excellent company to deal with. I received this upper fairly quick. It was packed nice and easy to put on. Shoots amazing and I highly recommend!
Giacomino Ruff
Published on August 20th 2020, 8:20:00 am
No Regrets! Delivery was fast and set up easy. Can not wait to fire it!
Shawn Konkler
Published on August 11th 2020, 12:21:00 pm
29" .50 BMG Raptor Excellent fit and finish, action is very smooth. Recoil is very manageable, almost identical to a 12ga 3-1/2" turkey load.
Andrew Quinn
Published on August 7th 2020, 5:02:00 am
Excellent buy I have not shot the rifle YET. Just go in and pulled from box. Packing was outstanding, 100% protection. Shipping was quick for having built to order. Upon taking out of package the rifle is well built. I called the company and go rite to a human. That is awesome. I am so pleased with the craftsmanship, if you are looking this is a great buy. Will take to the range soon.
Michael Miller
Published on July 30th 2020, 9:43:00 pm
Raptor 50 - 22 barrel The guys at ligamec Corp are awesome great customer service got the upper very fast put it together and shoots great very accurate. Would recommend them to anyone awesome....
Tina Foster
Published on June 17th 2020, 3:21:00 pm
Totally satisfied Great product, fast shipping, vary easy to communicate with. I will buy from them again.
Kenneth Weber
Published on June 9th 2020, 7:41:00 pm
Exactly what I wanted I have owned and shot many different 50BMG rifles, the Raptor 50 is the best bolt action rifle of them all. Not only can you buy this without having to take a 2nd on your house you get much more than you pay for. The machine work, welding and fit up is better than rifles that literally cost ten times as much, just for a name. I am very impressed and I will be buying more.
Jim Decker
Published on June 5th 2020, 4:01:00 pm
Looks just fine. Haven't fired it yet. Can an AR lower with a 3 position collapsible stock work or should i use a fixed stock? Ligamec The 3 position collapsible stock work too.
Craig Kidd
Published on April 21st 2020, 12:10:00 am
Raptor 50 Freaking Awesome!!!
Dave Strnad
Published on April 20th 2020, 7:31:00 am
Shipped when they said. Rugged, simplistic beauty! Shipped when he said. Looks beautiful in a rugged simplistic way. Have not shot it yet so no comment on that yet. Be patient fellas they do what they say when they say their going to do it, but this won't be like most your other orders with automated shipping notifications, fancy websites, etc.
Daniel Silva
Published on March 22nd 2020, 11:28:00 pm
My shoulder hurts... And that's a good thing! Man it sure was a long to time to wait for this upper to arrive, but it was well worth it! Just took it shooting today using a designated 80% lower(heard that such large caliber firearms like to warp takedown pins and holes) and the results were out of this world. Readily accepts bipods and scopes with the picatinny rails on top and below. Real glad I went with the 29"barrel as it is ~20 lbs, can't imagine going with the original plan for a 12.5 " barrel. I might have actually died/broken wrists. Was a bit finnicky trying to set up on a lower. I knew to replace the hammer but not about removing the disconnected and buffer tube spring and detent.
Albert Boutin, Jr
Published on September 5th 2019, 3:50:00 pm
Raptor 50 29" barrel Really like the build and machining of this upper receiver. Coloring was great and can't wait to take it to the range for a test fire. Will let you know how it goes.
Chris Howard
Published on August 8th 2019, 9:50:00 pm
29 inch barrel Barrel, muzzle break complete 50 BMG is work of art. Hefty piece of metal out of the box. Can't wait to get it to the range.
Dan Ott​
Published on June 11th 2019, 7:00:00 am
Raptor 50 29" barrel Great service, quick shipping, quality workmanship, fits receiver good
Joe Wyatt
Published on June 1st 2019, 2:24:00 am
Dont think twice, just buy one! I have to admit I was skeptical about buying one of these uppers from a sight I have never heard of before. I called with some questions expecting to get a machine. To my surprise I talked to a person who spent a large amount of time talking to me about the different models. I put in my order on a Monday and was told 2 weeks to process it. Less then a week later, I get an email saying it's getting ready to ship. From there, I had it in my hands in 2 days! WOW. First off, the packaging is excellent. Wrapped in foam and filled with peanuts. Great job. The quality of this upper is amazing. Looks great, no machining Marks, everything works smooth. I'm super excited to take this puppy to the range. If you are reading this and are thinking, man this guy must be paid to type a review like that, trust me, when I feel strongly about a good deal, I let everyone know. I'm very happy with my purchase and want to just say thank you to ligameccorp for an awesome product.
Christian Alanis
Published on May 26th 2019, 8:39:00 pm
Took it out this weekend worked every shot , Ran about 50 rounds and all ejected with no problem easy to eject no issue I'm also using PMC ball ammo .
​Wesley Cress
Published on May 8th 2019, 11:48:00 am
Great solid product! They shipped it out exactly two weeks after I ordered my upper and it arrived exactly 5 days later they packaged it very securely so it wouldn't get damaged the quality of the coating is perfect everything feels solid! I'd definitely recommend these guys if anyone is looking for a budget 50 bmg
Mitch Frasher

Published on April 18th 2019, 6:53:00 am
Raptor 50 29" barrel All in all I am very satisfied with this upper. I was amazed with the quality and craftsmanship put into it also. Despite having to battle with the anticipation for 3 weeks I am highly satisfied. I am glad i have found this small company for i have saved quite a bit of money when compared to another like serbu or safety harbor... I can't wait to shoot this beast this afternoon I hope the mammoth brake on this thing does its job. Time will tell
Bernard Wright
Published on April 10th 2019, 9:16:00 am
Raptor Received While I haven't shot it, the machining and appearance are impressive for their quality. One thing to note is the rear pin is machined for a full auto receiver meaning one must remove the wall between the rear pin and the firing group portion of the receiver. Second the picture showed an attached bipod. None was attached. I specifically noted in my order of this wasn't part of the order add one and include it in the bill. Since I received no response I assumed it would be delivered. Disapointing. LIGAMEC REPLY : The bipod on the picture is not included on the upper is sold separately, 29-inch upper cust $ 1550.00, we charge you for the upper we never charge bipod on your order. Bipod cust $145.00 out stock. Thanks, Marcos Ruiz Ligamec Corp.
Daniel Martinson
Published on April 2nd 2019, 3:24:00 pm
Amazing quality and fast arrival Ordered on 3/12 while back ordered and received in under a month!! Very impressive! Can't wait to get it out to the range.
DENNIS DAVIS
Published on April 1st 2019, 8:44:00 am
Quality Product Quality upper at a very reasonable price, what more do you want?
Joseph Baber
Published on March 31st 2019, 3:12:00 pm
Great products Great products and minimal contact needed. I always knew where my order status was
Roger Mccomas
Published on February 11th 2019, 4:55:00 pm
This thing is awesome Finally got to take it out and shoot. All I can say is awesome. And the quality and fit of the raptor 50 is amazing. I build a lot of ar-15 and ar10. So I know a good fit! You can tell this company really cares about their customers. I called them twice with questions. Once before I ordered it and once after and they answered the phone every time. They were very friendly and made me feel very comfortable buying their upper. This upper shoots great. Great job guys. Keep up the good work.
dane sherman
Published on February 11th 2019, 4:08:00 pm
Worth the wait My order was delayed a short time as the barrels were not arriving as scheduled, But when I received the final product these guy's are amazing. The craftmanship ship is top notch and the care they put into making this. At range time once the scope was installed and zeroed I was holding 1/4 inch shots at 500 yards, I know of course the gun can do better
Tyler Mason
Published on February 1st 2019, 11:43:00 pm
Badass Marcos was a pleasure to deal with, he endured my many emails. I had him build me one, incredibly fast delivery and upper looks flawless. It doesnt weigh as much as I thought it would, and it is a pleasure to shoot. I'd compare the recoil to a 12ga shooting dove loads. Truly a amazing rifle! Wish I woulda bought one years ago!
Francis Feininger
Published on January 26th 2019, 10:02:00 am
AA - Class Great service , communications , and quality upper Hard to beat that. Thanks again!!!
Glauco Miranda
Published on January 26th 2019, 9:51:00 am
RAPTOR. 50 BMG UPPER AFTER 3 MONTHS TESTING, I CAN TELL YOU, THAT IS THE BEST .50 UPPER IN THE MARKET!!! THANK YOU MARCOS FOR YOUR COMPANY BEST ASSISTANCE, PROVIDE THE BEST INFORMATION FOR THE BEST ASSEMBLY!! 3 MONTHS USING Federal Lake City 50 Cal BMG M33 Ammo 690 Grain Full Metal Jacket, AT 300 METERS!!! WOW!!!! 2 IN GROUP!!! VERY, VERY ACCURATE UPPER!!! THANK YOU LIGAMEC FOR YOUR EXCELLENT PRODUCT!!!!
Charles Yocom
Published on January 26th 2019, 9:50:00 am
Raptor 50/ performance Follow up on the Raptor 50. I went to the range and removed the bolt. I bore sighted it at 100 yds. Sent 1 rd down and then made an adjustment. Shot 3 Rds all holes touching. Made another adjustment and sent 3 more. I then went to 300 yd steel, hit 3 times. Made corrections and went to 500 yd. target. 1 st hit then it started moving around. The rings I used let the recoil move the scope. This rifle is a blast to shoot. The recoil was manageable for a 17 lb 50. The brake worked well. I have ordered some A max 750 to go longer. The rifle preformed perfect. Rounds ejected easily no need for a rubber mallet. The chamber felt like glass. Marcos told me he polished the chamber. No wonder it was so easy. I need to pony up and get some quality rings to go with this quality rifle. Then I will shoot for groups.
michael faucher
Published on January 7th 2019, 5:42:00 pm
Raptor 50 bmg the thing is a beast and I love it! only have about 10 rounds thru it but very awesome
Charles Yocom
Published on December 13th 2018, 3:00:00 pm
Raptor 50/Customer Service I cought the 50 bug watching the guys at the range that shoot. I didn't want to spend a fortune so I looked at the bolt single shot rifles. About 4-5 to choose from. I went with Ligamec after reading the reviews on the owner Marcus Ruiz and the product. I called and spoke to Marcos and told him I would pick up at his shop the filling week. He called me and said it was ready at 4 pm and he waited for me to get there even though with rush hour traffic it was around 6. His shop was immaculate and everything in its place. The product was flawless and you could tell by the look on his face he is proud of his work. The grin on my face told him I was impressed. Now I need to sight in and see what this big dog will. Thanks Marcos
Debbie Hopper
Published on October 8th 2018, 9:15:00 am
My first 50bmg and I love it. Great craftsmanship and fast shipping
David Byrum
Published on September 15th 2018, 8:45:00 pm
Raptor 50 upper I'm new to the 50 BMG world and have not been able to test the rifle yet. The supplied hammer and spring was easy to install once you remove the disconnector (don't need it for bolt action). There are no YouTube videos or much information on forums. I'm actually working on doing a video to include the install and testing once I finish a successful test fire. I will post the link here. Only reason I'm not giving 5 stars is because I haven't test fired it yet to see how it's s going to hold up to the 50 BMG and the return policy is non existent (there is none, all Sales final). So make sure you know what your getting into before buying this upper. My components used are: SHF dedicated 50 BMG lower, Magpul PRS stock, ALG ACT trigger, Raptor 45* Safety selector, ERGO grip with palm shelf, and GG&G LCB-3 heavy duty tactical bipod. The availability of using standard AR parts as part of this build allows for a certain amount of customization, another win for going this route.
Shane Gali
Published on September 5th 2018, 9:37:00 pm
Excellent customer service, product looks great. Will try it out soon.
Daniel Vaught
Published on August 28th 2018, 10:55:00 pm
Impressed (so far) to say the least Easy conversation with seller prior to buying, Website simple to use and functional. Shipping was FAST! Packing SUPERIOR! Item looks great and if it shoots 1/2 as well as everything so far - Superb! Thanks
Richard Rogers
Published on August 12th 2018, 5:19:00 am
Raptor 50 Bmg Upper I purchased the 18.5" Raptor 50 upper and could not be more pleased with the fit and finish. It truly is one solidly built upper and the bolt slides super smooth. I have not had a chance to shoot it yet, as I am still waiting on a scope I purchased from another company. Also shipping was super fast, I received it with in two days of ordering.
STEVEN YEAGER
Published on August 11th 2018, 4:25:00 pm
purchase I called and no one picked up the phone. I actually got a call back in about an hour (surprised and great). I ordered later that day. Shipping was quick. It was a a great experience.
William Rasche
Published on August 5th 2018, 8:41:00 am
Purchasing 50 cal upper The overall experience was excellent, ordering online was a breeze. Spoke with Marco on the phone and he was really nice and helpful. Definitely will buy from again. Thank you so much for the awesome service, shot the upper this weekend and it shoots great.
Joseph Lappe
Published on April 7th 2018, 1:24:00 am
Very Nice I haven't shot it yet but I'm impressed with the speed of delivery. They forgot to put a tracking number in the email, but it showed up 11 days after order. I canceled my Safety Harbor Firearms order. They say 6-8 weeks but most orders are taking 3 months. I'm going to shoot it tomorrow.
M K
Published on April 1st 2018, 3:18:00 pm
30" 50bmg upper Good quality, bolt handle is great nice thick threads to prevent stripping, only problem the scope rail is canted a few hundreds thousands to the left but all in all it's a BLAST, so far 100 rnds through with no problems, I wish they would redesign the extractor like other bolt systems have because it's the weak link in this upper. I rather a m95 Barrett but for now this is great for practice
Jerry Chanin
Published on March 13th 2018, 1:01:00 am
Quality product. I ordered an upper and spoke to Marcos on the phone. He was happy to help. I asked for, and for a CNC setup fee, customized my upper with a 31" barrel. I bought a Safety Harbor dedicated lower to attach to the upper. The fit was excellent. Very tight with NO play whatsoever. I added a Magpul PRS gen 2 stock to my lower. I topped off the upper with a Burris fullfield 2 scope. The fullfield series uses etched reticles that won't break loose from the 50's recoil. I recommend it highly. I shot Lake City ammo and due to the full power loads the first case didn't eject without help from an aluminum rod down the barrel. A drop of oil spread around on each cartridge fixed this problem. No extraction problems since. Tracers shoot with no problem. Reloads that I made worked fine. Very hard to find reloading data for surplus powder. 223 grains of surplus wc860 behind a 647 grain API works great. No issues at all. I still, however, use a drop of oil on each round. All in all, I am very happy.
Jeff Bringhurst
Published on December 31st 2017, 1:42:00 am
Fifty BMG Build Outstanding product, the muzzle break works very well. The felt recoil is comparable to a .308 with out the sharp hit. It is more like a push. The action is big, but smoth. Very happy with my purchase.
MICHAEL HALL
Published on March 29th 2017, 7:41:00 pm
Get the long barrel Very easy take down, but you really need to have knowledge of how the whole platform works. Not for novice, lacked instructions, but the longer the barrel, the more accurate it is. Functioned as designed after modifying the lower as described above.
richard lewis
Published on January 18th 2017, 6:35:00 pm
Raptor 50 upper 22" Barrel Raptor with a 22" barrel is a great product very please with the product. Great customer service When I didn't receive the hammer and heavy spring they ship a new one out the same day I will do business with them again.
Josh Riley
Published on November 3rd 2016, 1:20:00 pm
Just awesome I had been looking at .50 uppers and stumbled upon Marcos at the KCR machine gun shoot. After talking with him and looking over his Patriot .50 (unfortunately for me all of the Raptors he brought had sold) I went online and submitted my order. Shook his hand and less than a week later UPS was knocking on my door. I am very happy with my decision and Marcos instilled a lot of confidence in my purchase. The upper is definitely solid and offers a whole lot of bang for the buck. The fit and finish was exactly what I imagined after talking to him. Oh and when you call... he answers. That is a HUGE plus to me and I have absolutely no regrets in pulling the trigger on this upper.